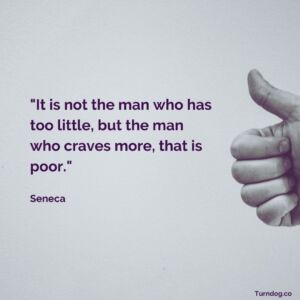 You want more:
money
time
love
clothes
cars
energy
success
fame
followers
"stuff"
Why?
What value does this "more" have?
If it has value, great.
More revenue can mean greater impact.
A bigger house can lead to loving memories.
More success can result in massive fulfillment.
Yet often, we simply crave more for the sake of it.
A distraction. A way to escape the moment.
To not think about what we're actually thinking about.
As Seneca suggests, this pursuit for more makes you poor.
True wealth comes when you're content with what you have.
Less is more…
as they say.
So, why do you want more?
Does it have a value; a purpose?
If so, great.
If not, what's the point?
This post was kindly provided by Matthew Turner, who can be reached at:
https://www.linkedin.com/in/turndog/